About Us
A#1 Bass Guide Service was established by National Freshwater Fishing Hall of Fame inductee Captain Pete Matson in 1991. Capt. Pete owner and operator of has over 26 years experience as both Professional Guide and tournament angler. Winner of Regional and Local tournaments. My experience and fishing knowledge will help you have one the best and most memorable fishing experiences of your life.
10 good reasons why you should fish with A#1 Bass Guide Service and Capt. Pete Matson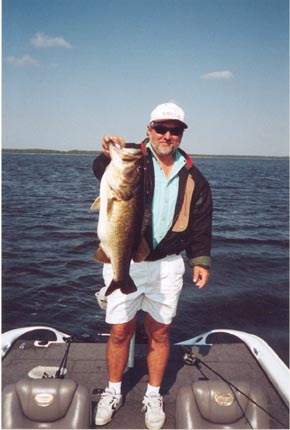 1. Half, Three-Quarter or Full Day Charters.

2. Artificial or Live bait fishing.

3. Trophy Bass Fishing!

4. All charters are with fully rigged professional Bass Boats and only the best fishing equipment.

5. We will be fishing the most productive water in Central Florida has to offer.

6. If needed Transportation to and from motel and Florida Fishing Licenses can be provided.

7. All our Captains are full time professional guides with many years of Bass Fishing experience. Our guides will be there to instruct and help the first time anglers along with the well-experienced fisherman.

8. A#1 Bass Guide Service can accommodate the largest of groups! We have a number of bass boats or a pontoon boat that can accommodate 4-6 people for small groups or family fishing.

9. 24 hour answering service Call: (800) 707-5463. We will get back to you!

10. Go with who the pros go with!!! A#1 Bass Guide Service has been featured in BASSMASATER Magazine (14 times).Southern Outdoors Magazine, Field and Stream Magazine, Bass Times and local publications in Florida. Bassmaster Magazine went as far as to rate us one of their Top Ten Destinations in the country.A#1 Bass Guide Service has played host to several TV fishing shows including, North American Outdoors Magazine Show, O'Niell Outdoors, Advantage Outdoors with Wade Borne and The Ultimate Angler.

Call: 1-800-707-(Line)5463